Acceptance
according to BGV D6/D8/BGR 500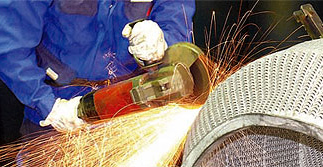 Repair service
We repair baskets for maximum operational safety.
The following repairs are typical:
Flange mounting
Correction of deformations
Elimination of wear damage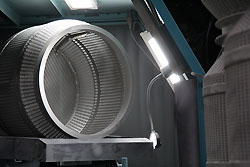 BLASTING
Finishing our work pieces before they are delivered to the customer is our standard for a perfect product.
But our blasting technology can do much more. We use special glass spheres as blasting abrasives with an outstanding combination of physical and chemical properties unlike any other blasting abrasives:
Gentle cleaning of sensitive surfaces (coating inlays, stainless steel parts)
Time-saving alternative to chemical pickling
Compaction of non-ferrous metal surfaces
Surface finishing of metal parts
Cleaning of repair parts
Stainless steel matting
We can process components with a size of up to 1000 x 1000 x 1000 mm in our blasting booth.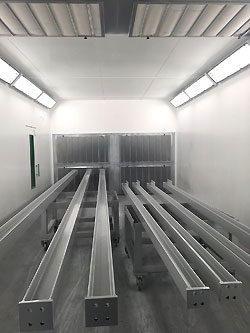 PAINTING
Prior to delivery, products get their final finish in our in-house paint booth. The paint can be baked directly after painting. This makes painted parts ready for shipment after just 30 minutes.
Work pieces with a length of up to 8000 mm can be painted and processed.
Our environmentally friendly paint line is equipped with modern high-performance filters.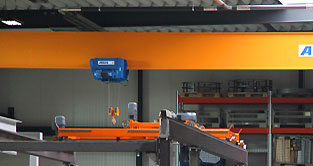 ACCEPTANCE ACCORDING TO BGV D6 / D8 / BGR500
Crane systems are subject to recurring inspections prescribed by the Accident Prevention Regulation (UVV).
We are your partner for conducting the following inspections:
Accident Prevention Regulation (UVV) acceptance according to VBG for:

Cranes and hoisting equipment according to BGV D6
Winches, hoisting and towing equipment according to BGV D8
Load handling devices according to BGR 500
All acceptance procedures according to the Accident Prevention Regulation (UVV) include an inspection sticker and inspection report
Please contact us in case of questions regarding inspection intervals, instruction and proper documentation. We are happy to advise you.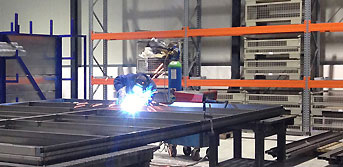 INDUSTRIAL ASSEMBLY
As a system supplier for production lines, we combine expertise with planning and assembly. We specialise in the modular planning of workstations with requirements for vacuum lifting technology, welding dust extraction and the required welding fume curtains.
Examples:
Custom solutions for the suppression of spurious oscillations in welding fume extraction via multiple-axis mounted welding robots.
Special applications in vacuum lifting technology
Mobile welding fume extraction systems

Particulate matter
We meet all criteria according to the Ordinance on Hazardous Substances (GefStoffV), Industrial Safety Directive (BetrSichV) and German Employment Protection Act (ArbSchG)