NC sheet metal processing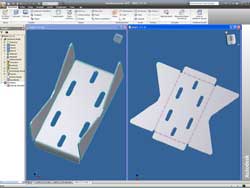 CAD/CAM – PLANNING
We fabricate CNC stamping, nibbling and CNC edge bending sheet metal parts according to your drawings and samples, or design them according to your specifications and requirements using the latest CAD/CAM software.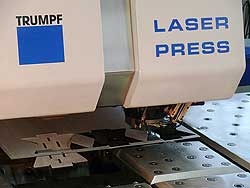 LASERING/STAMPING
With our TRUMPF stamping/lasering machine, we can process large-format sheets up to 3000 x 1500mm in one operation. We process sheets up to 10 mm in steel and 6 mm in stainless steel.
Aside from stamping and lasering, additional processing such as smaller upstands is also available. Especially cost effective processes are possible as a result.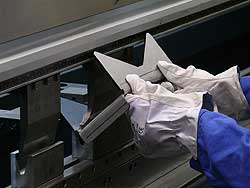 CNC EDGE BENDING
Precision with no need for rework. With the technology of our CNC edge bending press, we obtain the highest angle accuracy and very precise bending angles. Special edge bending tools shape every sheet as desired, with optimal results.
We can produce profiles up to 4m in length with a press capacity of 200t.
With 6 controlled NC-axes, we are also able to fabricate more complex components such as housings and sheet metal assemblies to your specifications.
As with stamping and lasering, we can produce models to your specifications within a day.
Metal and steel construction

METAL AND STEEL CONSTRUCTION
We fabricate industrial plant equipment to customer specifications.
Examples include stairs, platforms, storage platforms, partition walls and industrial offices.
We are looking forward to your inquiry.